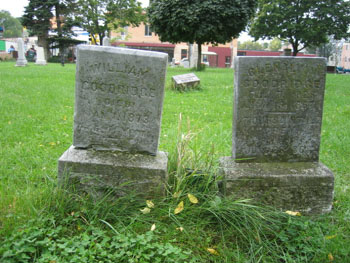 Toussaint L'Ouverture Grey
Ralph & Emily Grey Name a Son for Liberator of Haiti and Help Liberate a Slave from Colonel Christmas
Toussaint L'Ouverture Grey was the first African-American child born in the city of St. Anthony. His parents, Ralph and Emily Grey, moved to St. Anthony in the late 1850's, before Minnesota was admitted to statehood, and they are the only known African-American Territorial Pioneers in Minnesota.
Ralph Grey relocated here in 1857 from Pennsylvania and began working in the Winslow House as a barber. Emily came the following year bringing William, their oldest son, with her. Toussaint was born the following year, on April 11, 1859. His parents named him after Toussaint L'Ouverture, the African slave who liberated Haiti from the French in the late 1700's.
In August 1860, Ralph and Emily were major participants in the court case of Eliza Winston. Eliza was brought to Minnesota as a slave by the family of Colonel Christmas. Eliza was responsible for caring for their daughter, but Colonel Christmas had promised Eliza that when that daughter turned seven, Eliza would be given her "free papers." When the time came, he went back on his promise.
The family was staying at the hotel where Ralph worked when Eliza got word to Emily about her situation. Emily agreed to help and contacted others who were active in the anti-slavery movement. They were able to get Eliza to a "safe house," where she stayed until her case could be heard in court. Judge Charles Vandenberg granted Eliza her freedom, and she left Minnesota for Canada.
Toussaint died of a congenital heart defect on June 28, 1868 , at the age of nine. His obituary ran on the front page of the Minneapolis Tribune. It read in part: "A devoted son and loving brother, his death will leave a void in the family circle, never to be filled. A good child, loving his Sabbath school and his God, he was willing to die, and asked his family to meet him in Heaven. He leaves a large circle of friends to sympathize with his parents over his early death."
Toussaint is buried in the southwest corner of Minneapolis Pioneers and Soldiers Memorial Cemetery near his grandfather, William Goodridge, and his uncle, Glenalvin Goodridge. William Goodridge was an important figure in the Underground Railroad movement in Pennsylvania. Glenalvin Goodridge founded the longest running African-American photography in York, Pennsylvania, in 1847. The graves of the Goodridge-Greys are marked by two matching markers. William Goodridge's name is inscribed on one, and Glenalvin's and Toussaint's on the other.
Next Article -> Abbie Palmer Woodward -- April 2006